Review: Prestigious roadshow trailers and vehicles for 2014 Sochi Winter Olympics
July 01, 2014
For nearly thirty years Cosby Suppliers have provided bespoke specialty trailers and vehicles to leading brands across the world. As such we're used to our vehicles being under the spotlight and scrutinised. The ultimate test of our reliability and expertise recently took place with the prestigious roadshow trailers and vehicles we provided for the 2014 Sochi Winter Olympics.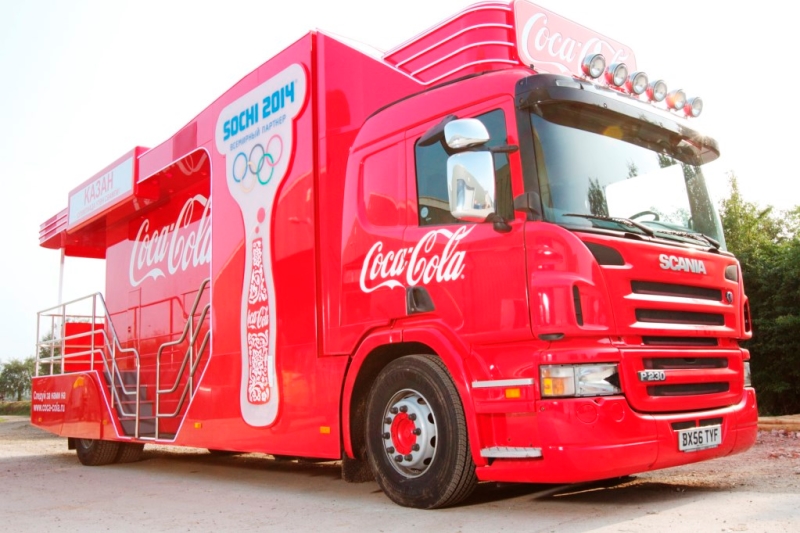 Working with prestige event organiser Heart Productions, Cosby Suppliers were commissioned to design and manufacture two bespoke roadshow trailers and vehicles to support the Olympic torch relay event that would take place across the wide expanse of Russia. This high profile prestigious opportunity demanded a level of technical excellence that we are used to delivering. Only two years earlier, Cosby Suppliers were the roadshow trailers supplier of choice for the 2012 London Summer Olympics torch relay event, on behalf of South Korean electronics giant Samsung.
There was however one distinct – and vital – engineering difference between these two solutions. The Winter Olympics vehicles had to be able to perform effortlessly in temperatures as low as -35° centigrade. To make sure that all essential systems would perform as required, we installed diesel-powered night heaters to ensure all key equipment – such as the power generators – could be maintained within the scale of operating temperatures. Attention was also paid to the feature LED lighting, which had to be verified for cold weather suitability. Both of these roadshow trailers included installed sound systems, stainless steel balustrades, and flagpoles (which could be raised and lowered).
The 2014 Sochi torch relay was the longest in Winter Olympics history, taking place across the whole of Russia for a duration of four months, and requiring roadshow trailers solutions that provided the most durable of design and construction specifications. It is with considerable pride we not only delivered these vehicles on time and to budget, but that they also performed flawlessly in hostile weather conditions under intense media scrutiny.
Speak to Cosby Suppliers about bespoke roadshow trailers and vehicles today
To learn more about Cosby Suppliers bespoke roadshow trailers and vehicles, or any other kind of speciality marketing and promotion vehicles, contact us today on 0116 286 2564. Our experienced design and engineering team are happy to have an informal discussion about your specialised vehicle needs. Alternatively, you can complete this online contact form.