A to Z of Exhibition Trailers
September 30, 2015
At Cosby Suppliers we're a leading provider of exhibition trailers to businesses and organisations throughout the UK. If you've ever commissioned an specialty vehicle of the kind that we design and build you'll be all to aware of the many diverse aspects of our business. If you haven't and are thinking about doing so, the exhibition trailers A to Z guide will give you a flavour of what we're all about.
---
Aerodynamic styling kits – These body kit enhancements add style and improve the performance of the exhibition trailers.
Branded – Each exhibition trailer can be branded with your unique design and style in mind, reflecting the branding of your company.
Cosby Suppliers – Here at Cosby Suppliers we have over 50 years of building and designing bespoke exhibition trailers for a wide range of industry sectors that house everything for the occasion.
Double deck trailers – In the case of Procar International Cosby Suppliers built and hand crafted a multi-storey complex. Complete with a driver's area, office space, kitchens and sponsors lounge.
Exhibition Trailers – We have a proven track record of providing small, medium and large enterprises – including major corporations and international brands – with bespoke exhibition trailers and vehicles. Our case studies highlight the successes in our previous work.
Fixtures and Fittings – Hand finished skirts and locker lids with parallel lift hinges, are a common feature amongst many of our exhibition trailers.
Generators – Most of exhibition trailers have on board power, the generators themselves have been specially designed to reduce vibrations and meet any client's noise level requirements.
Hydraulics – Some of our exhibition trailers come with hydraulic side pods and extensions that help position the various components in place.
Interior Design – In the case of the Ducati X2 project the soft furnishings had to mirror the high standards of the rest of the build, Cosby Suppliers sourced the quality interior from Countrylab of Italy.
Joint project – Cosby Suppliers will guide you through every step of the process, we can also offer advice on an existing fleet and information on the very latest specialist exhibition trailers techniques.
Knowledge – Cosby Suppliers offer unmatched know how in the field of exhibition trailers, please give us a call or fill in a contact form to discuss your next project.
Lightweight units – Don't be fooled by their lightweight appearance, our lightweight exhibition trailers can expand via fold out walls, drop down floors and raised roofs.
Mobile Environment – Mobile exhibition trailers enable companies to target a specific demographic in a localised area. This sort of precise targeting helps bring your sales pitch to those that are most likely to buy your product.
New Ideas – Here at Cosby Suppliers we thrive on developing new and innovative designs, so if you have something out of the ordinary in mind, get in touch and I'm sure we can accommodate.
Outside broadcast vehicles – Not limited to exhibition trailers, Cosby Suppliers have worked with Sky to create state of the art solutions to outside broadcasting while reducing CO2 emissions.
Parker Hannifin – This exhibition trailer benefited from a perforated ceiling that helped the air flow through the trailer from the air conditioning unit powered by the acoustically housed generator.
Quality 2nd to none – Please refer to our case study pages for a more detailed overview of the type of quality we offer to our customers.
Roadshow trailers – We have provided fully functional marketing exhibition trailers for both the London 2012 Olympics and 2014 Sochi Winter Olympics torch relay events.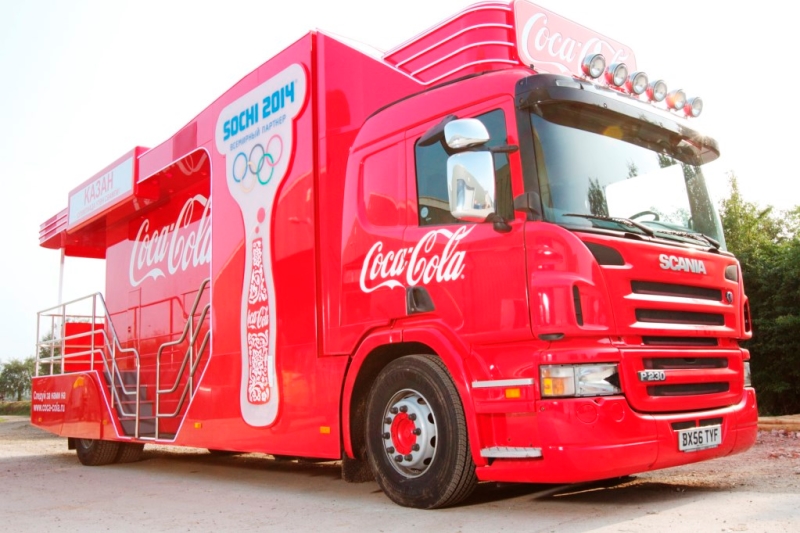 SSMT Member – We provide peace of mind as Cosby Suppliers are members of the Society of Motor Manufacturers and Traders.
Tailor made – Each mobile exhibition trailer is perfectly fitted to the precise needs of each customer.
User Experience – Exhibition trailers allow a different type of user experience that helps build real relationships that other forms of marketing can't provide.
Volkswagen – Cosby Suppliers designed a lightweight exhibition trailer that could easily be transported from location to location spreading their marketing message across the country. We were able to offer the perfect balance of marketing effectiveness and functionality.
Web Access – Data cabling and fibre optics can be integrated into wiring looms, all integrations are fully tested and compliant with all safety regulations.
X-factor – Get a step up on the competition and make the most of what exhibition trailers have to offer, including face to face engagement, flexibility and mobility.
Your vehicles – All of our tailor made exhibition vehicles need regular testing and servicing to ensure they are working at their peak.
Z list – Why use other less capable exhibition trailer suppliers? Cosby Suppliers have a proven track record with all types of industries and customer specifications, call us on 0116 286 2564 to discuss your next project.
Your complete guide to Exhibition Trailers
If you'd like to learn more about the potential of exhibition trailers, contact the Cosby Suppliers' team today. We have many years' experience of designing and building bespoke marketing and exhibition trailers for both small/medium enterprises and large, multinational businesses, across a wide and diverse range of sectors and industries. Call us today on 0116 286 2564 to learn more. Alternatively, complete our contact form.
Follow us on Twitter for exhibition trailer updates